We are only specialized in the manufacturing of continuous indigo and other dyestuffs dyeing machine for denim warps.
Since we are firmly convinced that Research and Development represent the milestone for an always more advanced and efficient technology which is respectful of the environment, we are the sole manufacturer in the world to have a R&D department equipped with creel, fractional warping, and a lab dyeing machine able to reproduce in small scale the industrial ones. Moreover we do also have a well equipped chemical lab.
This equipment made it possible for our technicians and qualified cooperators to perform researches, trials and tests for new concepts and allowed them to have an always deeper knowledge of the dyeing processes as well the influence of its various parameters, to continuously update our machines, by anticipating the market requirements and giving a new revolutionary dyeing technology, ecologic and economic, in the

® (pat.) modules.
Our production:




for samplings

for samplings and small productions


It is the machine with maximum operative flexibility for the slasher continuous dyeing, with indigo and other dyestuffs, of denim fabric warps.
It is arranged for all the pre and post treatments and for dyeings of yarn's warps, both ring spun or open end, even very light, of cotton, new fibres, blends and elastic too, in a very wide range of blue, black and different colours, in line with the fashion's trend.
Its special dyeing vats, with a specific shape and optimum dipping times, the ingenious and efficient bath circulation system on all width with double flow (pat.), the equipressure squeezing pads, allow a high dyeing yield with reduced chemicals consumption.
The outfit of experimented automatic control and dosing systems, with monitoring and computerizing of all the process parameters, the vats ECOWASH® model (pat.) for pre and post treatments with intensive effect, which allow even only a substantial saving of water, the revolutionary oxidation intensifier RAPIDSKY® (pat.) which reduces wastage, elongation and stress on yarn allowing a better performance on looms, made it the much evolved and more technologically advanced and at the same time easy to run, simple and reliable machine.
INDIGOFLOW, for its peculiar constructional characteristics, together with the continuous evolution and constant updating, allow high quality, repeatable, economic and ecological dyeings; for this reasons, is the machine used by the top class worldwide denim manufactures.


High technological content machine for the continuous dyeing, in rope, with indigo and other dyestuffs of denim fabric warps on which to tradition have been added the modernity, the rationality, the completion of our unsurpassable Indigoflow.
Is a technologically evolved machine in which the whole have been studied at man measure, where every possible intervention is easy, simple and safe; is therefore practical, rational and ergonomic.
In its kind, beside the rest, is the only one equipped with:
Stainless steel/rubber squeezing pads with big diameter equipressure rollers, for a even squeezing at each working pressure
Big delivery pumps for higher recycle/hour of the dyeing bath
Front to front system for the circulation of dyeing bath
Caustic soda and powdered sodium hydrosulphite automatic dosing systems with special dissolving device
Oxidizing groups with big diameter rollers, short laps and maximum ergonomics
Ground fitted colour kitchen tanks
Machine and colour kitchen equipped with the whole plants on board made in stainless steel
Drying rollers groups with side housing and suction hoods for a safe working environment
Regulating group for the ropes at the entry of coiler
Automatic instruments for command and monitoring (PC - PLC - Touch Screen) seconded, in redundancy, of devices for the manual managing of the basic operative cycle parameters too
Protections and safety devices according to CE regulations
Proboscis shaped extractor fan for fumes and smell


Advanced technology machine for dyeing in continuous, slasher and rope, in Nitrogen atmosphere, with indigo and sulphur dyestuffs, denim fabric warps, which makes use of the new ingenious ecological and economical technology with two or more

® (Pat.) modules.

® is an integrated module to dye with indigo and sulfur dyes in a nitrogen atmosphere, made up of a dyeing vat and a special diffusion/fixation unit of the soluble-state (leuco) dye to the yarn, which can be differentiated according to heat activation and the duration of stay in an inert environment.
Basically,

® has added a fourth operational stage, that is the diffusion/fixation of the leuco dye in an inert environment, where also the dipping and squeezing of the yarn occur, to the classical method of indigo dyeing, common to all traditional machines, primarily made up of three operational stages repeated several times: impregnation of the yarn with the leuco dye, squeezing out of the excess dye bath and oxidation by exposing the dyed yarn to air.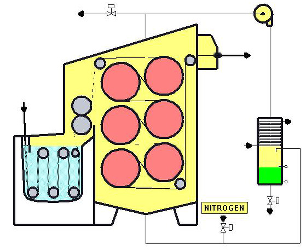 "GENIUS" MODULO DI TINTURA IN ATMOSFERA DI AZOTO A CIRCUITO CHIUSO (Brev.)
In the

® (pat.) modules the indigo chemical reduction is full and perfect, and the leuco dye is separated into nanometric size particles; its dyeing power makes it penetrate and fix to the fiber better than using a traditional system, which in some cases also allows eliminating the fixing agent even though working with a higher concentration of dye in the bath.
This original working condition in an inert environment and closed circuit allows eliminating some problems of the classic system compared to which it has the advantages not only to drastically reduce the consumption of caustic soda and hydrosulfite but also to considerably save washing water thanks to a better fixation of the dye to the yarn.
They are the result of our fifty-year experience in the specific field of yarn dyeing and expression of the highest technology in this sector.
They are characterized by completeness and the greatest operational flexibility and due to their specific and exclusive design features, they allow reducing the number of dyeing vats for high-quality, eco-friendly, and low-cost productions.
Thanks to

® (pat.) the continuous dyeing technology with indigo and sulfur dyes takes new features: advanced technology is the means, ecology and savings are the results.
The technical advantages are:
Dyeing process independent of external variables
Better diffusion and fixation of the indigo and sulfur dyes to the fiber
Higher dyeing yield (about 40% with sulfur dyes)
Use of about half the number of dyeing vats
Reduction (up to about -80%) of the soda and hydrosulfite consumption
Decrease in energy consumptions
Decrease in the consumption of washing water
Cutting of production costs
No nitrogen consumption in operation (twin pad type)
Remarkable lowering of sulfites and sulfates in waste water
Lower loss of yarn at lot changes
Improvement of the working conditions
Increase in the operational flexibility thanks to the possibility of working with concentrated baths and at high temperature too

Besides the traditional dyeings, the

® (pat.) machines allow for other special dyeings which can be exclusively obtained thanks to the possibility of combining in several different ways the physical/chemical characteristics of the dyeing bath with the mechanical/technical variables they are equipped with; the results are significant interactions such as obtaining dyeings with unusual effects to produce new items, original and unrepeatable on the traditional machines.
THE "ECO-FRIENDLY" DYEING FOR A SUSTAINABLE FUTURE
For further explications, please do not hesitate to CONTACT US.